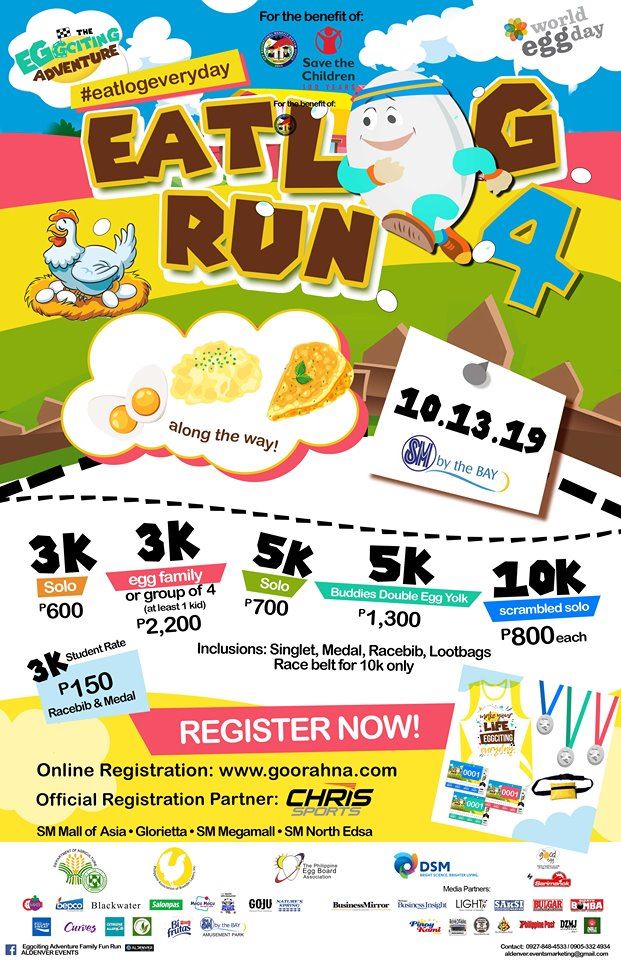 Did you know that there's a World Egg Day Celebration every October? In celebration of the World Egg Day, the Philippines participates in the annual commemoration via Eatlog Run 2019. Now on its fourth consecutive year, Eatlog Run continues to advocate one egg a day for good health.
Happening on October 13, 2019, at SM by the Bay in Pasay City, this family-oriented event brings in a new twist to its usual fun run as it introduces various egg dishes along the running course. This activity is a unique way to highlight egg as a healthy, nutritious yet affordable food choice.
ABOUT THE RACE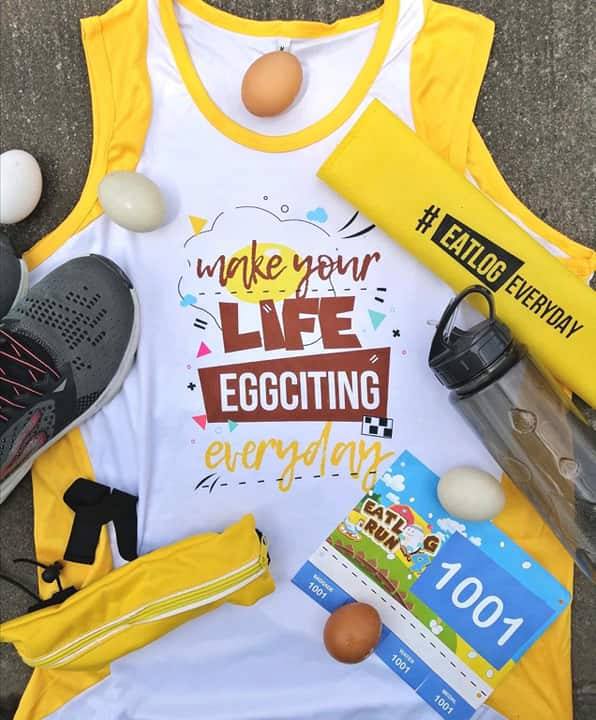 Apart from increased consumption and awareness on eggs' nutritional value, the proceeds of Eatlog Run will aid the following institutions – Save the Children and Armed Forces of the Philippines Educational Benefit System Office (AFP-EBSO), to continue their fight against malnutrition and send orphaned children to school. The annual Eatlog Run in the Philippines has been recognized by the IEC, a global organization that represents the egg industry.
Registration is now open for any of these categories with corresponding prices – 3K Solo for P600.00, 3K Egg Family or group of four for P2200.00, 5K Solo for P700.00, 5K Buddies Double Egg Yolk for P1300.00, and 10K Scrambled Solo for P800.00.
Race kit includes singlet, racebib, finisher's medal, and lootbags. For 10K runners, they get additional race belt.
On-site registration takes place at selected Chris Sports branches – SM Mall of Asia, Glorietta, SM Megamall, and SM North EDSA. You can also do online registration by visiting www.goorahna.com.
Students are also encouraged to join. They can participate in this run for a cause for a discounted price of P150.00. They will receive racebib and medal.
EGG FACTS
Eggs are an inexpensive yet richest source of high-quality protein, other nutrients such as essential fatty acids, and micronutrients like vitamins and minerals, necessary for the body's nutritional requirement.
One of the vitamins found in eggs is vitamin D. The egg yolk has high levels of vitamin D, that is required by the body to control the availability of calcium and phosphorous that strengthens the bones. Sufficient levels of vitamin D, likewise, provides immunity and cell repair to prevent stress and cancers.
Meanwhile, egg yolk's bright color is an indicator that an egg comes from a healthy hen. Aside from that, it contains high levels of carotenoids, that acts as antioxidants.
DSM Nutritional Products, one of the major partners of Eatlog Run Year 4, is the global leader in quality vitamins. They offer Optimum Vitamin Nutrition (OVN), a DSM trademark for quality in terms of ensuring levels of recommended doses of vitamin requirement for animals are adequate, allowing the animal to function in basic growth, health maintenance, and production performance.
DSM supports in healthy egg production by providing not only the common form of Vitamin D3 but also the absorbable form of Hydroxy-D3 (HyD®) in egg layer diet nutrition. This delivers adequate levels in the systems of the animal that can be deposited to the egg. It also has nature identical Carophylls® that can help supplement carotenoids aside from the feedstuff.
Other than eggs' many health benefits, this run aims to uplift and empower our local egg producers. With the support of Department of Agriculture (DA), Bureau of Animal Industry, Department of Science and Technology – Food And and Nutrition Research Institute, Philippine Association of Breeders and Layers, Inc. (PABLI), Philippine Egg Board Association, and DSM Nutritional Products, The Good Egg by Sarimanok; and other partners will help us better understand egg's contribution to the food and poultry industry.
DSM Nutritional Products is recognized by the International Egg Commission (IEC) as the first sole Value Chain Partner for feed additives and sustainability. This partnership is responsible for supporting sustainable egg production by promoting it as the lowest contributor to environmental footprints while being an affordable, safe, and accessible form of nutrition to all. This collaboration requires international cooperation with global organization to deliver United Nations Sustainable Development Goals, that will benefit the need of the growing population for food and help drive positive development in the egg industry.
REGISTER NOW
This event is organized by Aldenver Marketing, Inc.
For more information about Eatlog Run 2019, please contact Ms. Nikka Ramos of Aldenver Marketing at 0927-8484533 / 0998-9565231. You may also send an e-mail at aldenver.eventsmarketing@gmail.com.
For updates and other important announcements, please check Eatlog Run or Aldenver Events and Eggciting Adventure Family Fun Run Facebook page.