More than 15 film entries from Filipino film makers made it to the elite selection of the 2020 International Film Festival Manhattan.
The International Film Festival  Virtual Events is happening online on November 19 to 22, 2020. The decision to do this online was because of the lockdowns and limited travel around the world due to the pandemic.
The festival is presented by LFP International Production Inc and co presented by: Tagline International, Oncue Media and Binary. Programs will be posted on their website www.IFFMNYC.com
The following are the Filipino films that were selected from the hundreds of submissions from around the world.
Feature Film:
"Latay (Battered Husband)" Dir: Ralston Jover, Starring Allen Dizon, Lovi Poe, Snooky Serna, Mariel de Leon and Diane Alvaro Producers: Baby Go, Dennis Evangelista, Ferdy Lapuz
Documentary Films
 1) "In Paglayag A Sulu Story" Dir: Rhadem Morados
2) "Maglabay Ra In Sakit (The Pain Will Ease)" Dir: Mijan Jumalon
3) "Kagitingan (Valor)" Dir: 1Lt Balaram S. Tamayo —–
 Short Films
1) "Biyaheng Madilim (A Night's Journey)" Dir: Luisito Lagdameo Ignacio starring Teri Onor
2) "Sulyap (The Glance)" Dir: Geraldo Jumawan, Win Suarez Compendio
3) "Garbo (Pride)" Dir: Alan Filoteo
4) "Tuta (Lapdog)" Dir: Nadyn Estacio, Celina Makani
5) "Sa Apat Na Sulok" Dir: Scarlet Mendoza
6) "Kulong The Lockdown Story" Dir: Michael Daya
7) "Filius (Son)" Dir: Justin Allen Caspulso
8) "Padayon (Keep Going)" Dir: Clanche Dayve Belleza
9) "ANX" Dir: Jorge Bryan Marquez
10) "LOL" Dir: Mark Justine Aguillon
Quarancine Film Festival Top 3 Winners from the Philippines (as prize competes at IFFM).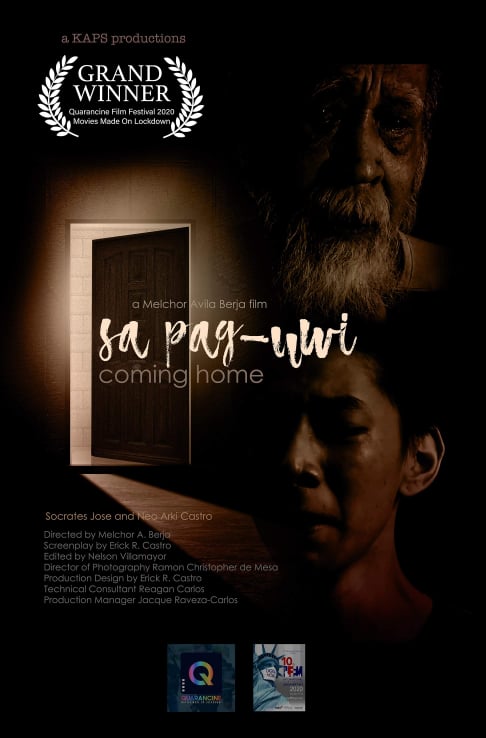 11) "Sa Pag Uwi" Dir: Melchor Berja
12) "Namnama En Lolang (Grandmother's Hope)" Dir: Jonnie Lyn Dasalla
13) "Blue Room Feelings" Dir: Ruka Azuma
Filipino American Filmmakers in the Festival Feature Films:
1) "Take Out Girl" Producer: MJ Del Rosario
2) "Karma the Movie" Director: Ricardo Catalan Jr
3) "Unspoken" Producer: Rodney Reyes
Short Films:
1) "Fish Head" Director: Marcos Durian starring Madison Rojas
2) "House Rules" Director Girard Tecson Featured in the festival as well is Khatak Film Society Short film program co curated by NY based Filipino Filmmaker Jameelah Rose Lineses.
This year they will be honoring Veteran Award Winning Filipino Director Louie Ignacio as their Lifetime Achievement Awardee. A Posthumous Award will be given to Frontliner Occupational Therapist / Award Winning Filmmaker / Co Founder of the International Film Festival Manhattan Filipino American Gerry Balasta who passed away due to Covid 19 last March 2020.
Other countries represented are USA, Canada, Bulgaria, Estonia, India, Japan, Colombia, Spain, Germany, Macau, China, Russia, Italy, Myanmar, Tibet, Austria, Switzerland.
The topics and genre covered in the festival are the global pandemic due to the Corona Virus, senior issues, depression, health care system, beauty pageantry, military, war, crime, drama and horror.
Luis Pedron, Festival Director of the International Film Festival Manhattan says "Due to the Worldwide Pandemic, the International Film Festival Manhattan will be doing Virtual Events happening online (ticketed with limited time) on November 19 to 22, 2020. Decision to do so was because of the lockdowns and limited travel around the world due to the Pandemic. There is also lack of live events happening in NY. Meanwhile, we plan to do meaningful (for the filmmakers and audience alike) Virtual Events Online. Doing the festival virtually will give us the opportunity of reaching a new audience beyond the borders of Manhattan NY. It gave us hope. Thus, we have our theme this year as 'Digital Hope.' I will always feature Filipino films as part of my festival programming not only because I'm proud of being Filipino but because I am proud of the artistry of Filipino Filmmakers! Mabuhay ang Pelikulang Pilipino!"
Check the schedule of events and tickets HERE.