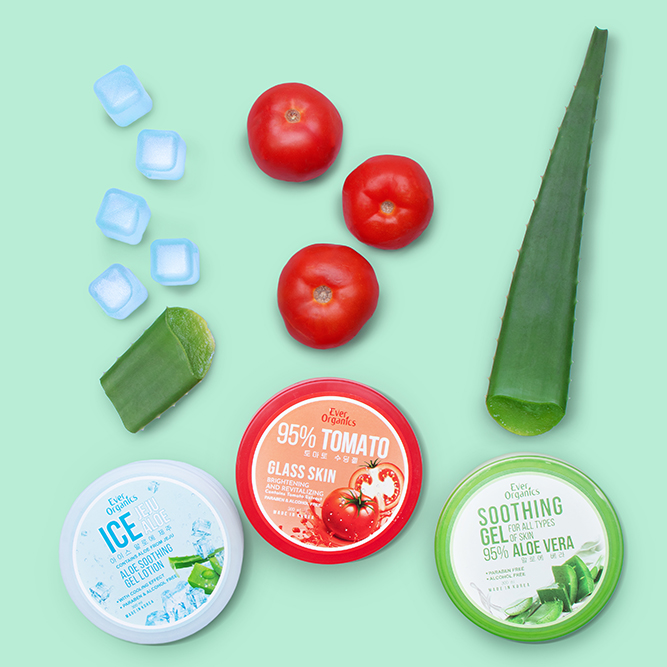 I remember going to this fam tour with my fellow bloggers. We were mostly outdoors and we can't deny how picturesque the place was. All was good until I woke up the next day- my legs have red marks brought about by insect bites. It was so itchy. My co-blogger handed me his aloe gel and it provided me comfort and a cooling effect. It was like an AHA moment that as soon as I got back in Manila, I decided to buy one for myself. The soothing gel has become my skin regimen already, replacing my lotion. I even use it for my face sometimes.
There are a lot of soothing gels in the market but the one I came to trust is Ever Organics Soothing Gel. Made from natural ingredients and are formulated in Korea, it is now very easy to achieve supple skin.
These gel moisturizers come in three variants infused with natural skin-loving ingredients like Aloe Vera and Tomato to keep all skin types nourished and hydrated: Ever Organics 95% Aloe Vera Soothing Gel, which is naturally extracted from Aloe Vera plants, is suitable for all skin types. It repairs the reduces dark spots, and soothes puffy eyes. It is also Alcohol & Paraben free and contains Centella Asiatica extracts that soothes sunburn and inflammation.
Fortified with tomato extracts, the Ever Organics 95% Tomato Soothing Gel brightens and revitalizes the skin, giving it a youthful glow. It regulates sebum production and contains antioxidants that fight skin aging. It also aids in skin dryness and irritation perfect for sensitive skin. Use it to minimize the appearance of pores and achieve Korean glass skin while protecting it from sun damage.
The Ever Organics Ice Jeju Aloe Soothing Gel is enhanced with cooling effect. It moisturizes the skin while boosting suppleness and evening out skin texture. It also has antioxidant and antimicrobial properties that soothe irritated and red skin. This soothing gel that contains aloe from Jeju plant is ideal for combination to dry skin.
Give your skin the moisture it deserves by copping the Ever Organics Soothing Gel available Lazada on May 22 for only P188.00 per tub. For more information, follow Ever Organics social media pages Facebook (@EverOrganics) and Instagram (@ever_organics).