I have been binge-watching at Netflix lately and am finally done with YOU (season 2) and The Witcher. These two made my nights unsleepable because the episodes are too damn good to miss.
You is a psychological and creepy series that stars Penn Badgley who plays the character Joe Goldberg. He is a charming and obsessed man who would resolve to extreme measures just to become deeply involved into the lives of those who is transfixed by. Meanwhile, Henry Cavill stars as Geralt of Rivia in the fantasy drama series, The Witcher. It is based in the book of the same title written by Polish author Andrzej Sapsowski.
Sharing with you some of the most memorable quotes from the series that you can stream from Netflix. ( I even included them in my 'Quotables'in my bullet journal.)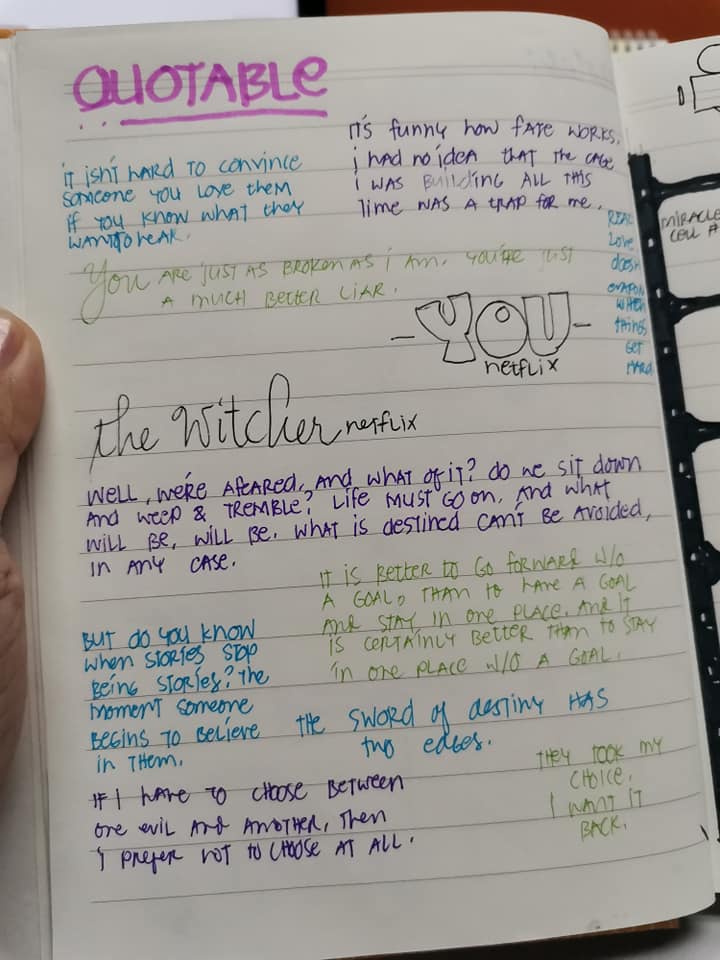 YOU
'It's funny how fate works, I had no idea that the cage I was building all this time was a trap for me.'
'It isn't hard to convince someone you love them if you know what they want to hear.'
'You are just broken as I am. You're just a much better liar.'
'Real love doesn't evaporate when things get hard.'
'At the end of the day, only you know who you really are.'
'So karma and I, we're in a fight. Some people, they get what they deserve. Some people don't.'
THE WITCHER
'Well, we're afeared, and what of it? Do we sit down and weep and tremble? Life must go on. And what will be, will be. What is destined can't be avoided, in any case.'
'If I have to choose between one evil and another, then I prefer not to choose at all.'
'The sword of destiny has two edges.'
'But do you know when stories stop being stories? The moment someone begins to believe in them.'
'They took my choice. I want it back.'
'It is better to go forward without a goal, than to have  goal and stay in one place. And it is certainly better than to stay in one place without a goal.'
***
How you watched the two series? What's your favorite quote/s? Would love to read them in the comment box below.