Takbo Cavinturismo is a fun run happening on June 11, 2023, Sunday, from 4AM to 10AM in the Municipality of Cavinti, Laguna.
This unique running event aims to promote Cavinti as a haven of natural wonders as the event route will take both competitive racers and casual runners through some of the municipality's scenic destinations –
Caliraya Lake (6K)

Lumot Lake (12K)

Bumbungan EcoPark (21K)

Underground River and Caves Complex (42K).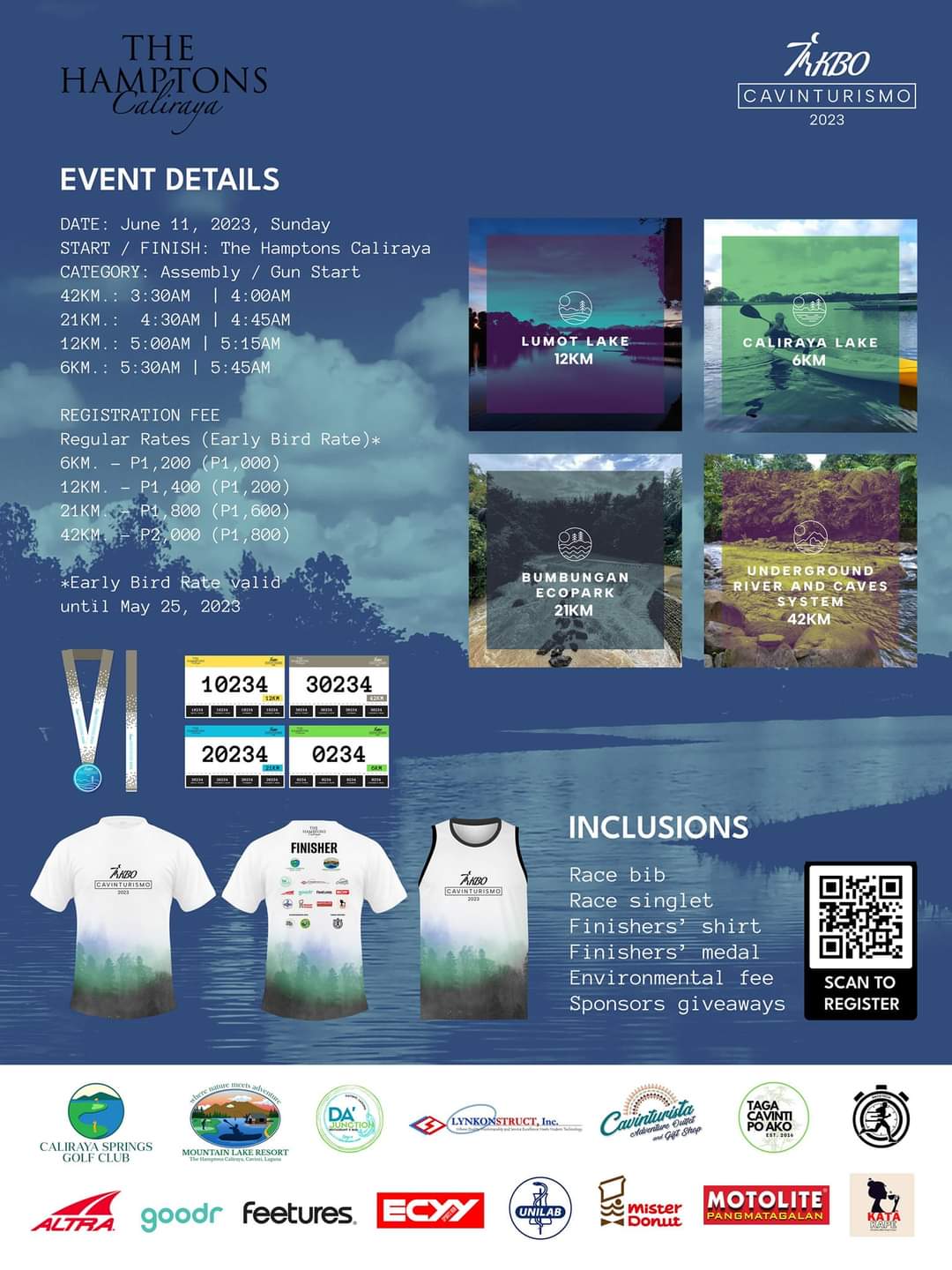 The event will officially start (and end) at The Hamptons Caliraya, a modern 300-hectare development along the scenic Lake Caliraya which features upscale leisure amenities and exclusive residential village.
There will also be a special category dubbed as "9 Holes In 1" which is a 5km. run that will take participants through Holes 1 to 9 of the Graham Marsh Golf Course (golf cart track) of the Caliraya Springs Golf Club!
Designed by Graham Marsh, a professional Australian golfer who's won over 70 tournaments worldwide, this golf course offers an amazing golfing experience … and an amazing view of the majestic Mt. Banahaw.
TakboCavinturismo is sponsored by
The Hamptons Caliraya, Caliraya Springs Golf Club, Mountain Lake Resort, LynKonstruct, Taga Cavinti Po Ako, Feetures, ECCY Sports Hub, Goodr
Altra Running Shoes, Cavinturista, DAJunction, Kata Kapé, ROA Coffee, and FiltraTimber.